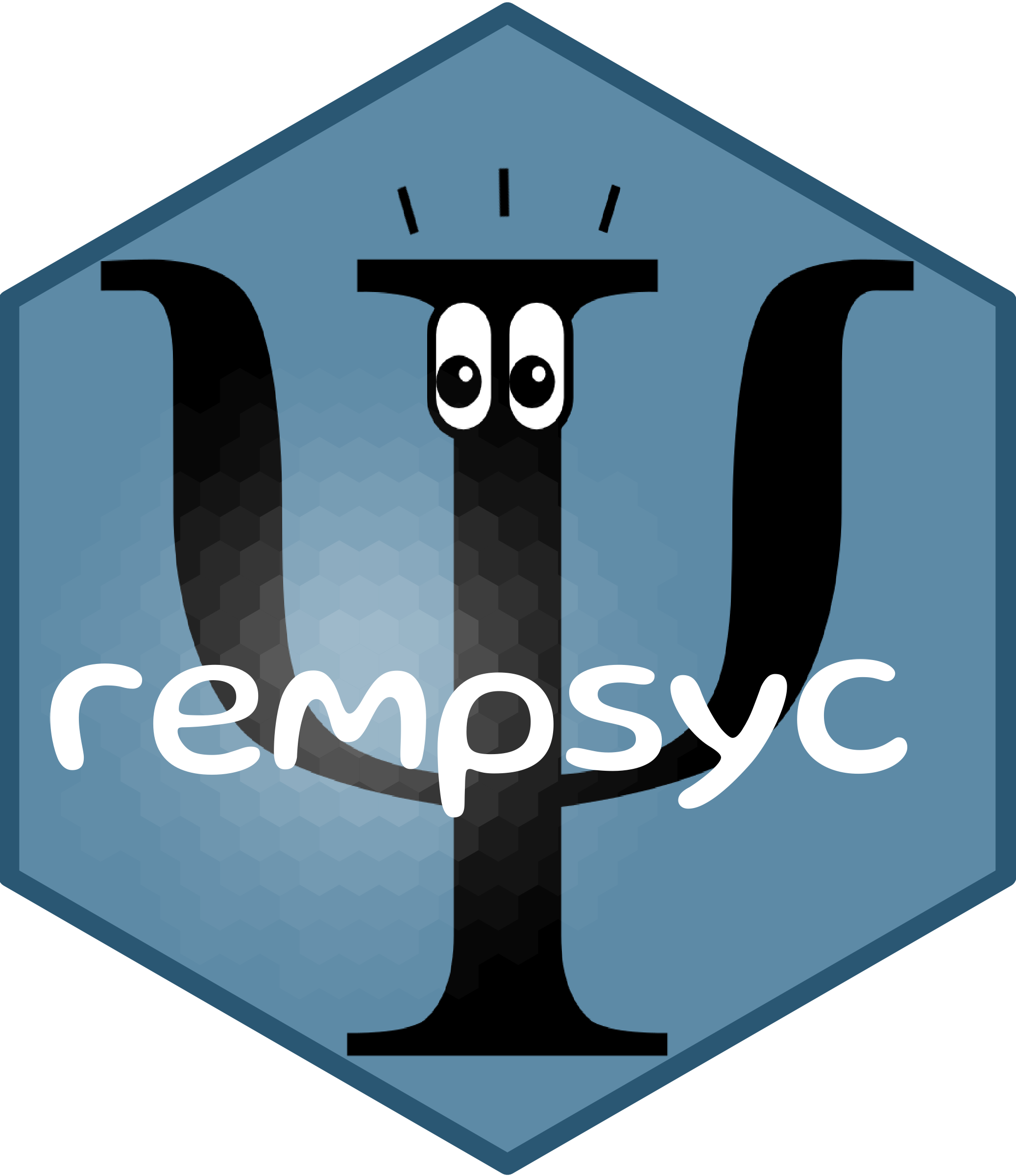 Publication-ready violin plots in R
Rémi Thériault
September 6, 2019
Source:
vignettes/violin.Rmd
violin.Rmd
Getting started
I happened to have lots of plots to do with slight variations, so I made a function to make my life easier.
This function, in particular, serves to compare 2 or more experimental groups (although it will still plot with 1 group). We use violin plots instead of bar plots because they provide more information for the same space (precisely, the distribution density/frequency of responses, which allows you to visually estimate normality, skewness, and kurtosis).
Let's first load the demo data. This data set comes with base R (meaning you have it too and can directly type this command into your R console).
##    len supp dose




## 1  4.2   VC  0.5




## 2 11.5   VC  0.5




## 3  7.3   VC  0.5




## 4  5.8   VC  0.5




## 5  6.4   VC  0.5




## 6 10.0   VC  0.5
Load the rempsyc package:
Note: If you haven't installed this package yet, you will need to install it via the following command: install.packages("rempsyc"). Furthermore, you may be asked to install the following packages if you haven't installed them already (you may decide to install them all now to avoid interrupting your workflow if you wish to follow this tutorial from beginning to end):
---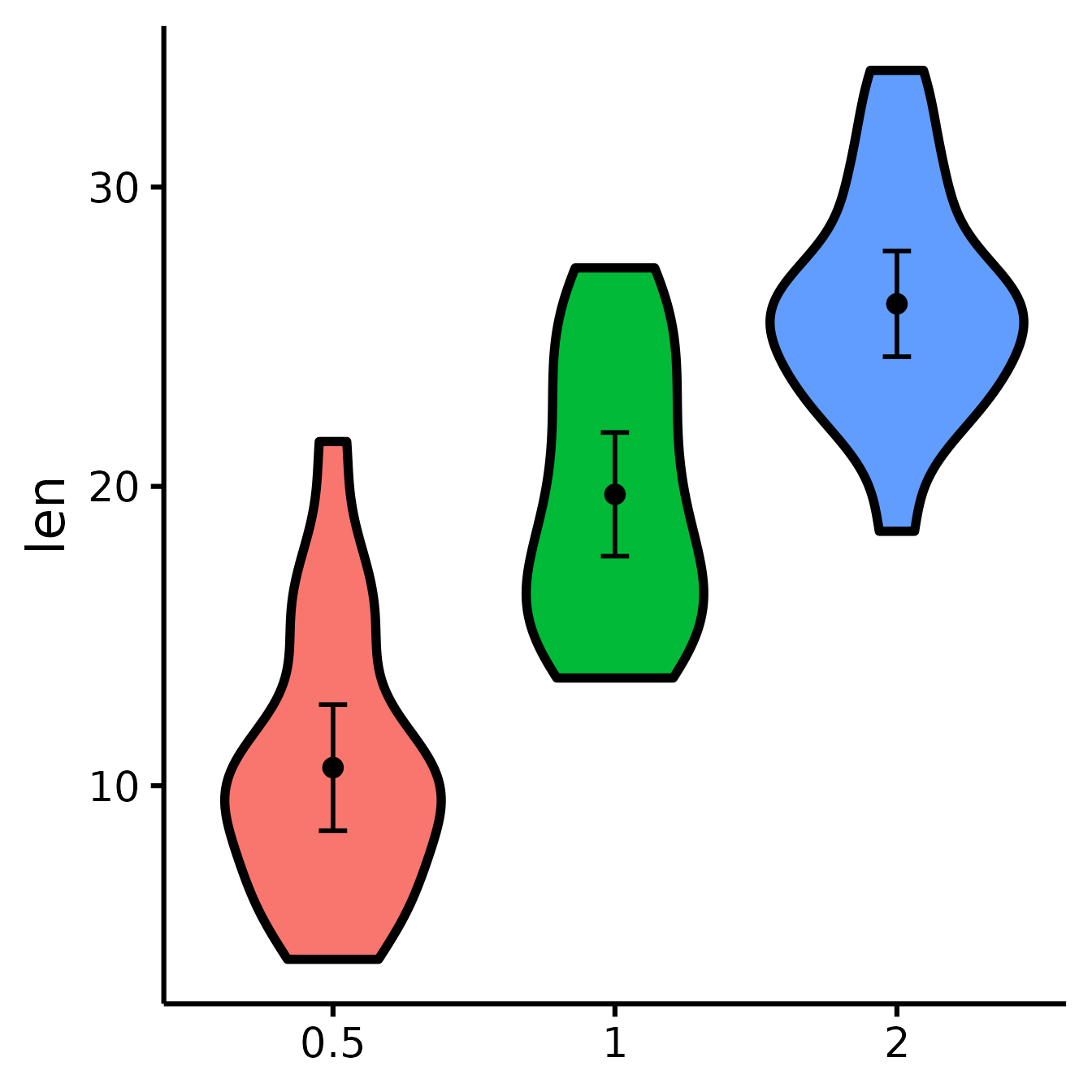 Dots = means
Error bars = 95% confidence intervals
Width = distribution density (frequency)
Special situation: Add other plot elements
The good thing about this function is that it outputs a ggplot object, which you can continue to use to build on your plot and customize it further. For instance, I recently wanted to add mean and sample size as annotations for each group (where I had group sample sizes ranging from 100 to 35,000, so it was important to know which groups were more representative). For the demonstration, let's just build the same multiple-groups plot we did earlier.



# Create our group variable:




ToothGrowth

$

groups

 

<-

 factor

(

sample

(

1

:

6

, 

60

, replace 

=

 

T

)

)





# Make the plot and save it to object "p"




p

 

<-

 nice_violin

(


  data 

=

 

ToothGrowth

,
  group 

=

 

"groups"

,
  response 

=

 

"len"

,
  border.size 

=

 

1




)
Then what I did is that I simply added conventional ggplot code to my plot object. (But first I had to compute the statistics we were going to be using:)



# Compute basic statistics and save to object


library

(

psych

)

 

# Install the psych package if you don't already have it




statsSummary

 

<-

 describeBy

(


  x 

=

 

ToothGrowth

$

len

, group 

=

 

ToothGrowth

$

groups

, mat 

=

 

TRUE




)





# Add our annotations! (Warning: a bit more complicated code ahead!)


library

(

ggplot2

)




p

 

+

 annotate

(


  geom 

=

 

"text"

,
  

# First annotation adds the average


  x 

=

 seq

(

length

(

levels

(

ToothGrowth

$

groups

)

)

)

,
  

# Specifies annotations is for all groups/x-axis ticks


  y 

=

 

statsSummary

$

mean

 

+

 

2

,
  

# Puts mean at mean value on the y-axis (adds 2)


  label 

=

 paste0

(

"m ="

, round

(

statsSummary

$

mean

, 

2

)

)




)

 

+


  

# That prints the mean on the plot


  annotate

(


    geom 

=

 

"text"

,
    

# (Second annotation adds the sample size)


    x 

=

 seq

(

length

(

levels

(

ToothGrowth

$

groups

)

)

)

,
    y 

=

 

statsSummary

$

mean

 

-

 

2

,
    

# Puts sample size at mean value on the y-axis (substracts 2)


    label 

=

 paste0

(

"n ="

, round

(

statsSummary

$

n

, 

2

)

)


  

)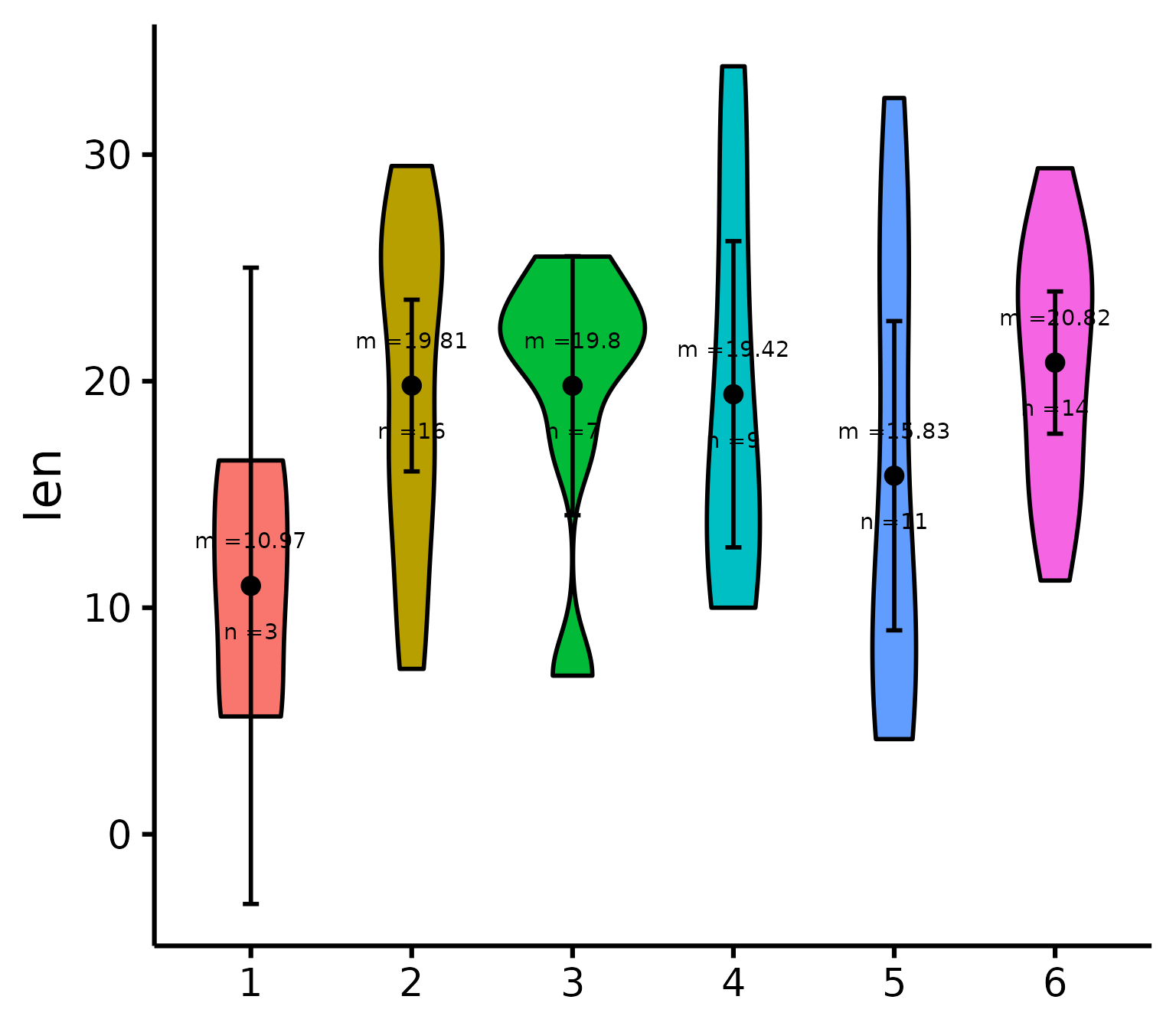 # That prints the sample size on the plot